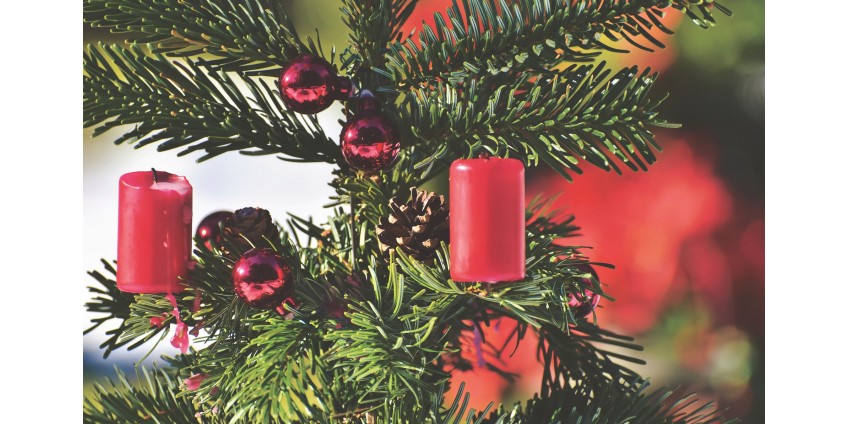 Fire Safety Tips for Christmas
Posted By: Sophie Published: 27/11/2019 Times Read: 871 Comments: 0
Christmas is a time for celebration! It also happens to be a very flammable time of the year, which is why fire safety tips are important in December (or November if you're an eager Christmas lover!). With this in mind, let's take a look at some top safety tips for the Christmas period, to ensure you, your loved ones and your belongings stay safe!
British Standard Christmas Tree Lights
You can purchase Christmas tree lights from anywhere these days, which is great for us, but it's crucial that they conform to the British Standard. The British Standard is a code of practice that is put in place to ensure the safety of the use of electrical goods.
Keep an Eye on Your Candles
As the festive season slowly creeps in, so does our love and excited use of candles. Candles, while a lovely Christmas accessory, can be a potential hazard. When a candle is lit, make sure it isn't placed next to anything flammable such as your Christmas tree or tinsel! Decorations make excellent fire starters, so make sure they aren't anywhere near a naked flame or anything heated.

Switch off Your Christmas Lights
Fortunately, as the years go on, the safer electrical goods become, including Christmas lights. LED lights are now hailed as the ultimate Christmas bulb. They are energy efficient and are impressively 'cool' to the touch. This is a far cry from traditional light bulbs which burn hot, hot enough to create a fire against some unsuspecting fabric. With that being said, make sure your turn all your Christmas lights off before you leave the house or go to bed for that extra piece of mind.
Alcohol Accidents and Fire
Christmas is a time where we may have more than one tipple more often than usual, and if you're a smoker, you might find yourself dosing off while your cigarette is still lit. This could be after the pizza you made yourself to soak up the mulled wine, where you forgot to turn off the oven. Keep your wits about you when you're indulging in the Christmas spirit to avoid any disasters.
Don't Overload Plug Sockets
We know you need to have your phone charged up for the perfect Christmas selfie. Don't forget the dancing Christmas tree, the singing Santa and the festive lights. And what about the music speaker? A lot is going on at Christmas, which is why it is crucial to remember not to overload your plug sockets as this can be a fire hazard.
Make a Fire Escape Plan

Not very festive, we know, but making a fire escape plan can save your life. In the Christmas period where things become relatively busy it's easy to forget there may well be some extra people in the house, or only one clear exit. Make yourself a fire escape plan just in case the worst happens, so you can relax, knowing you'll be prepared if a fire ever happens.
Keep an Eye on the Kitchen
Did you know that most fires start in the kitchen? It only takes a forgotten five minutes for your dinner to become ablaze, or even worse, the surrounding area! We know so much is happening around the festive period, so try and remember to keep an eye on your cooking to avoid any fire disasters.
Keep Real Christmas Trees Hydrated
If you're a fan of that fresh pine smell and can't get enough of the authentic Christmas tree experience, we can empathise. However, with real trees come real responsibility. Dry trees easily catch fire, especially when they are adorned with light bulbs or are next to candles, or heaters. To avoid a fiery accident, keep your Christmas tree hydrated by filling the tree stand with water, making sure that you switch off all Christmas lights and electronics on or around the tree before you go near it with water. Altogether, this will ensure that accidents are less likely to happen.
Here at ACS, protecting your home is one of the missions at the forefront of our business. Browse our fire-retardant paints for anything that needs extra protection, and feel free to contact us if you have any questions!
Comments