UniBlue : Non Toxic Universal Disinfection
---
Available Options
---
UniBlue : Non Toxic Universal Disinfection


Welcome to the revolution. UniBlue is a one stop solution to all your cleaning and disinfection. Not only does UniBlue kill bacteria and viruses with its powerful formula. It is one of the most environmentally friendly products in the world. Safe for your skin, safe for your family, safe for your pets and safe for the future.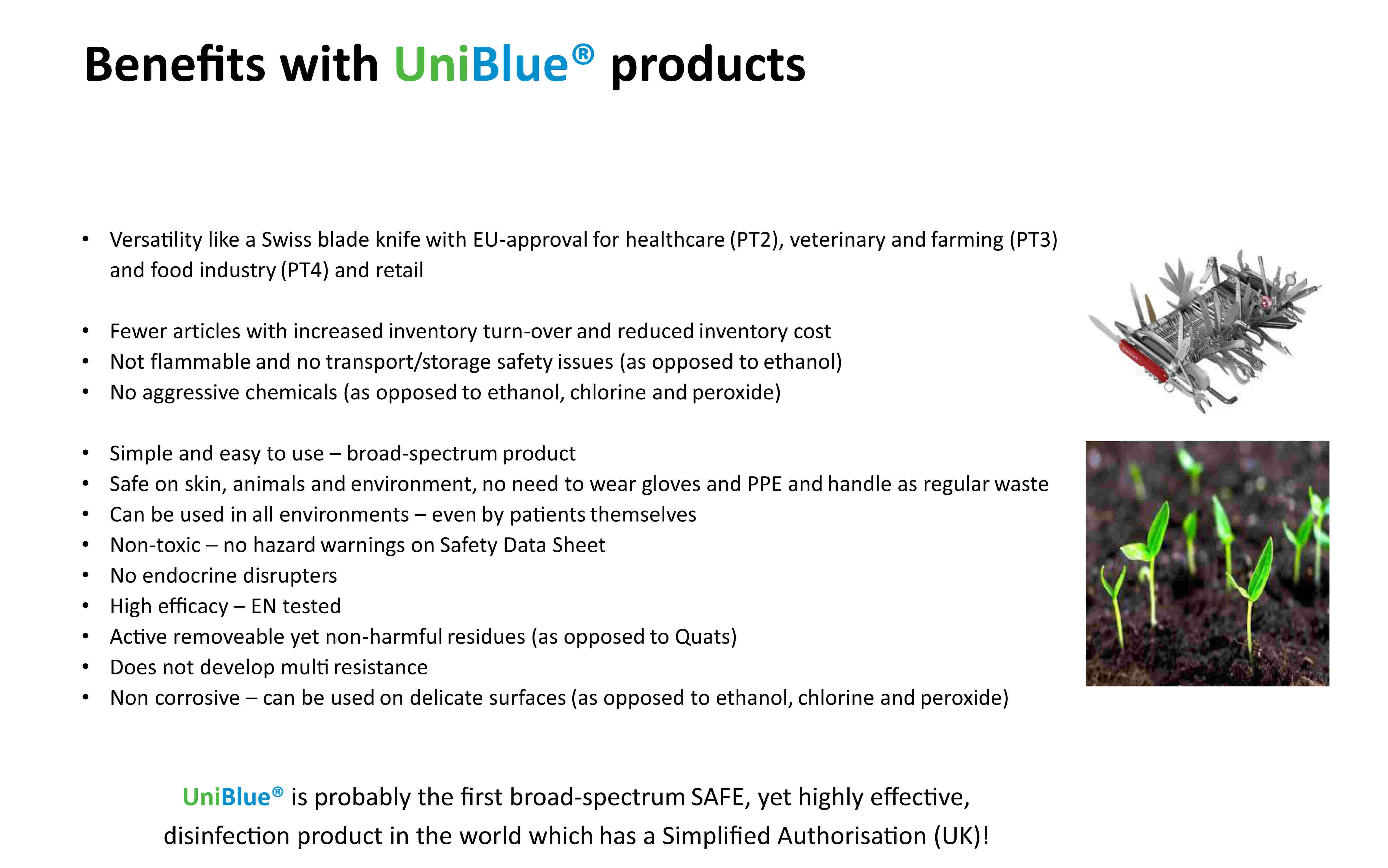 What can UniBlue be used for
Tables and work surfaces.
As a laundry pre-wash spray
Bedding and pillows
Antibacterial toilet cleaner
Food preparation equipment and surfaces.
Walls, floors, door handles.
Toys
Removing foot odour from shoes, trainers and odours from sports kit including diving and surfing wet suits, cycle and crash helmets.
Antibacterial spray for nurseries.
Antibacterial spray for pet bedding, cat litter trays, kennels etc.
Cleaning wheelie bins
Preventing bacterial build-up on dishwashing sponges and cloths
Fixed panel equipment such as non-rinse washable control panels.
Infusion pumps, stethoscopes, thermometers, telephones, beds, examination tables, nanometres, flow metres.
Beds, nursing pillows
Alcohol intolerant surfaces and furniture.
Food preparation equipment and surfaces.
How easy is UniBlue to use
The answer is very easy
CLEANING:
UniBlue has a highly effective cleaning action, comparable with most off-the-shelf detergents. For deep cleaning, apply with a cloth or spray on the surface and leave for 2-3 minutes. Wipe the surface to remove any dirt. Repeat for heavily soiled areas. Once clean, apply UniBlue with a cloth and leave.
DISINFECTION:
Simply spray the surface or wipe with a cloth or tissue soaked in Uniblue and leave. No need to rinse afterwards.
TECHNICAL SPECIFICATION
Colour: Clear
Spill Clean up: Wipe with a mop, cloth or tissue.
Shelf-life: Approximately 24 months in unopened
Containers. Not classified as hazardous waste. Packaging can be recycled in the domestic recycling bin
EU BPR AUTHORIZATION NUMBER
UK-2018-1168 (Pts 2,3 & 4)
No hazard classification. No risk symbols
Contains: Tartaric Acid, Lactic Acid, Peppermint Oil, Lavender Oil.
PACKAGING: 500ml trigger spray, 1.0lt trigger spray, 2.5lt, 5.0lt, 25.0lt drums and 1,000lt IBC.
Store in frost-free conditions, out of direct sunlight